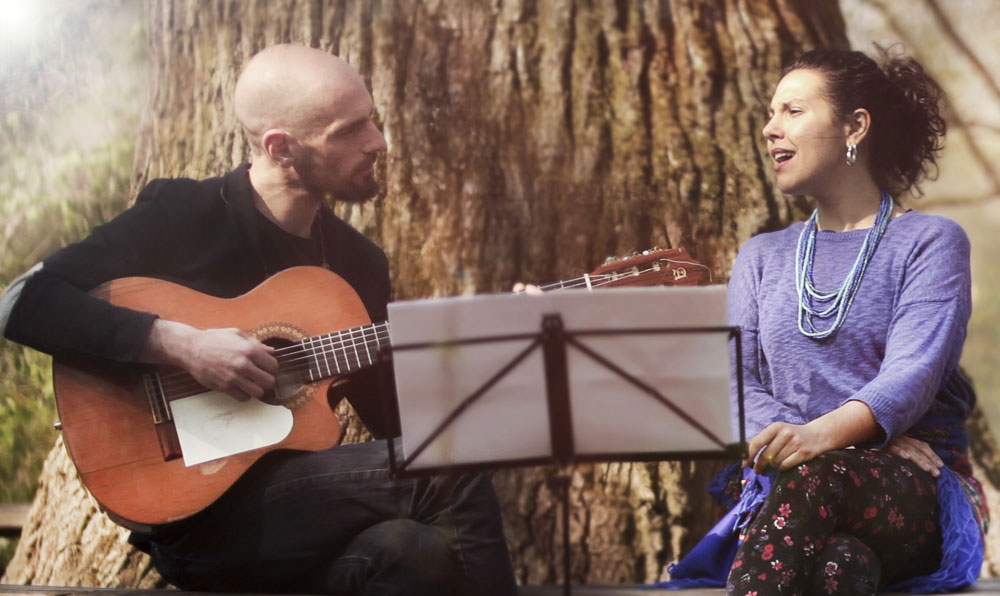 Claire Kates and Chema Gracia, recently united their forces and passion on Brazilian Bossa nova music and perform as a duo with voices, guitar and piano.
Chema Gracia started his music path as guitarist in the Spanish flamenco fusion bands Quinto Parpadeo and  El sombrero del abuelo in Madrid;
he moved to Berlin to develop further his own projects and expand his music horizons to jazz, Brasilian bossa nova and samba among others; playing guitar, piano, percussion and singing in projects like  Marumba, Ambares, Drep, Calvin Kien, Aracataca Straße, Betouma and Fulia Özlem Band;
Chema made different featurings with singers like  Flora Polnauer, Elena Botica and was compositor and producer of The Other Mother. A complete and concise musician who sincerely shares.
https://soundcloud.com/the-other-mother-berlin
Claire Kates is one of the founding members of the Berlin based multikultural vocal group "Ena Matso Kores" https://www.facebook.com/pg/ enamatsokores
Discovering and exploring the different polyphonic traditions from Greece, Balkans and the world; singing and telling  traditional stories that speak of the secrets of the forest, the birds, the mountains, the sea, death and, of course, of love and all its facets, songs that were left for us to be shared with the new generations across borders.
Claire recently fell in love with the emotionality and warmth of the Bossa Nova rhythm and melodies from Brazil, interpreting the songs of Tom Jobim, Vinicius de Moraes, Baden Powel, Rosa Passos, Elis Regina and others, with her own personal twist.