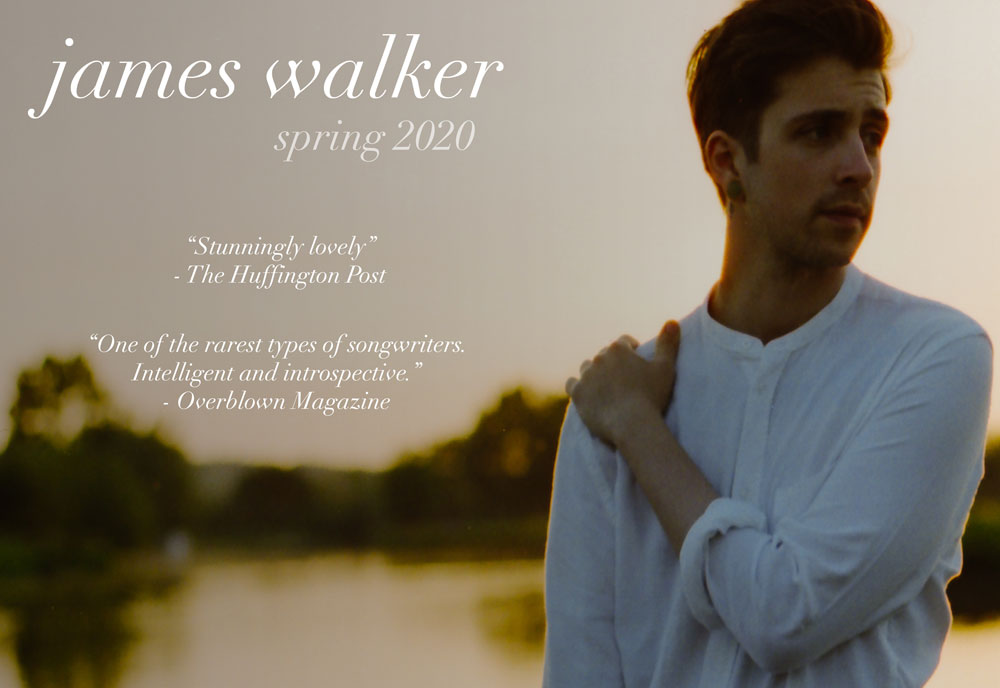 Leider aus gesundheitlichen Gründen abgesagt
"One of the rarest types of songwriters… intelligent and introspective, yet melodious and infectious." – Overblown Magazine
with local Support from "The Glass Child"
"Stunningly lovely" – The Huffington Post
Tenderhearted songwriter James Walker started his journey in the music industry as a session pianist, touring with Adam Barnes, Chris Ayer, and Matt Simons in the early 2010s. He fell hard and fast for the bohemian way of living on the road, of making lifelong memories with perfect strangers, of experiencing the little corners of the world and the people that live there.
James nearly had this all taken away from him, when he suddenly fell ill and needed major open heart surgery in 2013 at the age of 21. It was the turning point in James' life that made him decide to pursue music on his own accord; he realised the transience of life, the important of human connection and the need for expression.
Over the years that followed, James was to record his debut body of work English Bones. It was a brooding indie-folk record produced by Sam Winfield (Amber Run, BMTH), it received outstanding reviews in The Huffington Post, Overblown Magazine, Ear To the Ground and Punktastic, was selected by Spotify and Digster to appear in their Easyand Lazy Sunday Morningplaylists, as well as international radio play. To date, James has received over 6,000,000 cross-platform streams.
After the launch of English Bones, James was fortunate enough to tour Europe and the states with Judy Blank, Matt Phillips, The Brazen Youth, Josephine Zwaan, and Youri Lentjes.
These times on the road gave James the opportunity to reflect on his creative process, and in 2019 he started recording his sophomore record. Co-written with the critically acclaimed songwriter Richard Walters (Declan J Donovan, 3LAU), Judy Blank and Youri Lentjes, and once again produced by Sam Winfield, it is set to come out over the course of 2020 via Kobalt/AWAL (Lauv, Bruno Major) Maximal Music Sync (Candi Staton), and Music Table South Korea (Tom Misch, Girl in Red).
James will be heading out on a small run of solo dates in March, and on an nine-country, three-month album launch tour later in the year. He hopes to see you there.
—————
Links:
Listen here:
https://linktr.ee/jameswalkerofficial
Social Media:
https://instagram.com/jameswalkerofficial
https://facebook.com/jameswalkermusic
https://twitter.com/jwalkersounds
—————
The Glass Child:
https://open.spotify.com/artist/6RzyY9jw5gyIPJ7UhEu05Q?si=AXq4HyFBSruRNYFApYjbcg